Building an effective B2B email list can help you grow your revenue and subscribers by a great deal. Adding another layer to your B2B business practices. That allows you to push through and make your mark on the world.
One of the most common ways to practice B2B marketing is via B2B email practices. As you are approaching professionals in the industry, rather than a group of teens or basic consumers. Meaning, you are required to keep a professional touch, an impact that makes the right impression.
However, one of the most common issues you will have trouble with in regards to B2B email marketing is to acquire a B2B email list. Fortunately for you, there are simple yet powerful ways you can make the most of your efforts.
How Email List Helps B2B Marketers?
A B2B email list allows you to get in touch with business professionals that are interested in purchasing your products in a bulk quantity. Meaning even a single purchase can help bring in a substantial amount of money. That being said, you cannot simply send out emails and expect to get a response, you need to sell your brand and your products in a way that pushes the decision-maker to get in touch. To help you out we have listed down a few tips you can use to boost your chances.
Offer the email receiver exclusive content with how-to articles, videos, and other detailed information.
Send them alerts of the latest blog posts, or a sneak peek at new products.
Share pre-sale information and/or executive coupons or discount segments.
Remind your readers about upcoming trade shows or events – encouraging them to stop by your booth or take part in an online seminar.
Share a survey and/or feedback opportunity to your subscribed list.
How to Build a B2B Email List
Once you understand aspects that should be highlighted in a B2B email, it's time you learn how you can build a B2B email list. To help ensure the list you create is effective, we have listed down a few techniques you can use to skyrocket your business growth.
Choosing The Right B2B Email Marketing Agency
An easy approach is by hiring a B2B email marketing agency that offers you an effective list you can use. Additionally, they can help you create and send out targeted email campaigns, and so much more.
On the other hand, you can choose a drag and drop builder to create email newsletters that promise content. Once your content is created you can use a marketing automation system that helps you send personalized email in bulk quantity. Furthermore, you can use a segmentation divider to create groups of subscribers based on their interests, preferences, and other separating agents.
Use A B2B Lead Magnet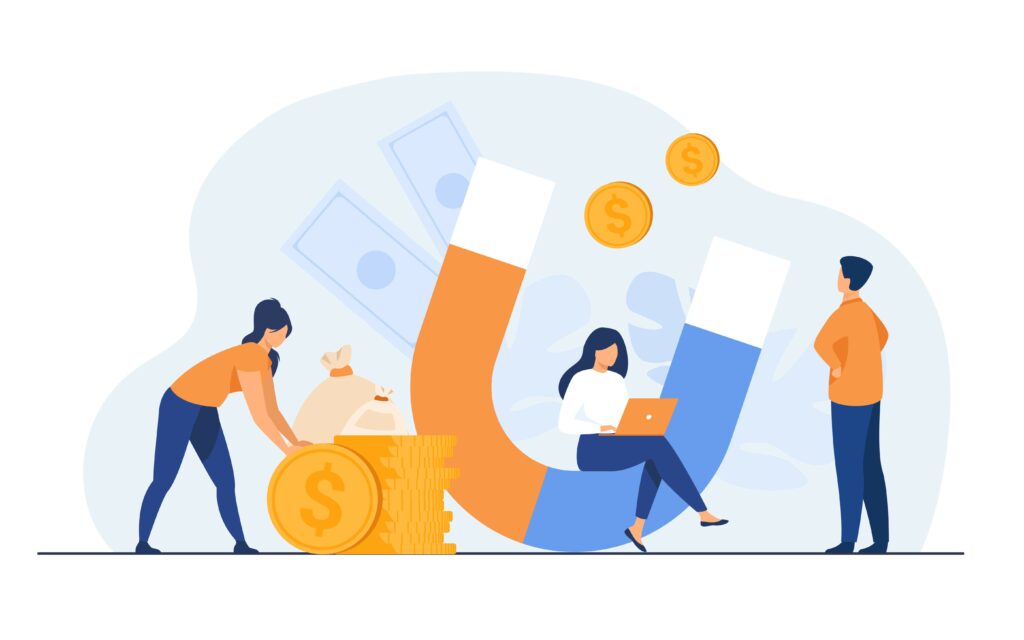 A B2B lead magnet is designed as an incentive that marketers offer customers in exchange for their email addresses. This can be anything that excites your readers, pushing them to share their email. Keep in mind that individuals are more likely to share their email id and join your mailing list when you offer them immediate benefits.
These can be anything from:
Checklist
eBook
Guide
White Paper
With the help of B2B lead magnets, you can help individuals solve problems in real-time. Offer them a specific solution to their problem, or offer them an instant discount. To ensure you create a smart system, we suggest you keep your ideal customers in mind and think of what they would love the most. What are they struggling with? What is the one thing they wish they had? This will give you a rough idea of what your customers are after, allowing you to create a lead magnet that ensures fruitful results.
B2B Lead Forms on Almost Every Page
To ensure you are grabbing as many email addresses as possible, we suggest you use multiple B2B lead forms across your website. Trying to grab users' attention with something that might interest them.
Here are some of the many popup options you can choose from:
Fullscreen: A single call to action that takes over the entire page.
Lightbox: A popup that covers the content on the page.
Notification Bar: A bar alert that is commonly found on the header or footer area.
Two-Step Option: A popup that comes with a Yes or No Form
Every single one of these forms comes with promising results. However, to ensure you maximize their usage, we suggest you pick one that matches your website's theme. Furthermore, you can try out a few and choose the one that offers the most promising results.
Experiment Using Gated Content
Gated content is by far one of the most effective ways to increase your B2B email list. You know you have a hot lead when you find a visitor trying to access an industry-specific piece. Share a small chunk of the content, and gently push your readers towards a quick subscription list signup to access the rest of the content in the post.
What is great about gated content is that you can ask for anything from a name, number, company name, to email address. However, we suggest you stick to the basics such as name and email address, as individuals are more likely to share minimal information than giving out phone numbers, addresses, and professional details.
Furthermore, content you can consider gating includes, but is not limited to:
Webinars
White Papers
Research Reports
However, before you jump the gun we suggest you learn more about gating content. Like any other aspect, gating content comes with a number of pros and cons. On one hand, it is a great way to secure hot leads and add to your B2B email list. However, on the other, it can push users away from your website.
The key here is to know your audience and make a calculated decision based on your industry. To ensure you are making the right choice we suggest you gate some content and un-gate the other half. Run the system for at least a month and you will be able to see the results for yourself.
Segment Your B2B Email List
By segmenting your B2B email list you can send out targeting, and personalized emails to your B2B email list. There is no other way to say this, personalized emails are the only way to go about the process. They are more effective than random blasts, and can easily evade the junk/spam folder.
Verify Before Adding
One of the best ways to ensure you are making the right efforts is by verifying the emails before you start sending out emails. This way you can get rid of useless email addresses, and stick to a list that is interested in your content, products, or services.
Yes, just like any other market the B2B email lists are full of incorrect, outdated, and fake emails. This is why you must ensure that the list you have is in fact active and interested. This can be done by sending out a bulk email to verify the reader's interest. Or you can use an online tool or software that helps you verify your B2B leads before you add them to your permanent list.
Once you have sorted through the email address and other contact information you received through various sources, you can finally get started on creating a solid B2B email list. A list that you can keep adding to following the same protocol and standards.
Steps You Should Avoid When Looking to Create an Effective B2B Email List
The online world is full of fake promises, which is why we suggest you go about the process the hard way, rather than choosing an easy way out. You can pay someone to create a B2B email list for you, but we assure you practices like these will never bring in a solid lead. So rather than wasting your time and money, we push you towards hard work. One that promises you solid leads and that will help bring in fruitful results.
The B2B email list you use is vital for your business, as it can help you grow and thrive at the top. This is why you need to focus all your energy on creating an email list that will offer you a return at some point.
Continuing your efforts and offering your subscribers quality content is a great way to build a sense of trust, one that will help you a great deal when the buyer is looking to make a purchase.