For a newcomer, securing a business-to-business sale can be quite an adventure! It does not matter if you are new to the industry, or are moving from B2C to B2B. Or you have finally decided to expand your business to include business-to-business sales. This blog is designed to offer you all the information you need! you may not be a well seasoned B2B salesman, but you can easily become a well-informed and prepared newcomer. Ready and packed with ample information you too can take the industry by a storm. Creating a place for yourself, rather than waiting for a place to be created. To keep matters simple we will start with the basics and offer you more information on how B2B sales work. How they differ from consumer sales. Along with some tips and tricks that can help you become a top B2B salesman/woman. 
What are B2B sales?
Business to business (B2B) sales is a transaction that occurs between two corporations. In simple words, B2B sales include one company purchasing a good or service from another company. For instance, if a corporation is in the jam-making business, it will reach out to a company that produces glass jars. Making a purchase that helps them sell their jams in a presentable and safe manner. 
How To Get Started in the B2B Industry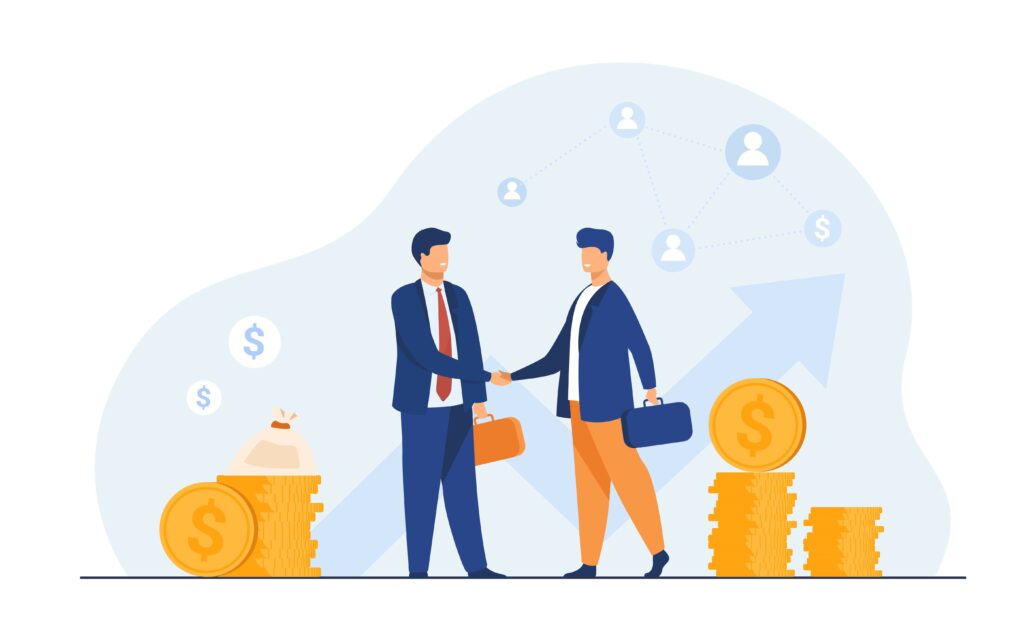 Start By Researching The Market
Your first step should include gaining as much information as you possibly can. Information that will help you understand the ins and out of your business, and other businesses that will require your products.
With the information at hand, you can easily come up with a plan that allows you to create a need for your service or products. Fitting in the current flow without struggling to find your ground. To make sure you do not waste resources going after the wrong leads, we suggest you list down 3 to 5 competitors that are selling similar services or products. Once you have your list, you need to establish a:
Unique Selling Proposal
What can you bring to the table that no other seller is offering? A reason why B2B customers should consider your band over your competitors. Once you have a strong unique stand you can move on to the next aspect.
Differentiators
You should know your competitors better than you know your own business. Take notes on what stands out from brand voice, products, pricing, to content style. By identifying their selling characteristics you can easily shape a brand that holds an impressive stance.
SWOT
Once you have a detailed competitor analysis in your hand, only then can you conduct a SWOT evaluation of your own business. A way you can easily find your corporation's weaknesses, strengths, threats, and opportunities you have access to.
Next
Once you have successfully completed these aspects, you can turn your attention towards potential customers. An online study found that approximately 50% of your prospective customers won't be a good fit for you. This is why before you focus on B2B sales, it is vital that you know your audience.
The most effective way you can get this done is by creating customer personas using research resources. A way you can easily gather great insight from real customers, creating information that is accurate and can help you shape up your ideal customer.
However, it's best to remember that you are in B2B sales now, and your customer persona should be based on decision-makers in other corporations. These decision-makers are the ones who have the authority to budget, negotiate, and close deals.
To help you get an idea, here is a good example for a B2B customer persona:
Demographic – Age, gender, income, living status, education, etc.
Role in Company – Their current position at the corporation, and an overview of how much authority they have over the process.
Customers Goals – Expert and personal objectives. For instance, he wants to improve sales by 20% in the year to come.
Difficulties – The problems a company requires help with. For instance, the sales representatives are not clear on which fields and forecasts they should concentrate on.
Interests – Ideal websites, news sources, magazines, software, applications, and more.
These insights can help you get an idea of what your ideal customer is like, and what is the best way to approach them.
Creating Prospects
There was a time when B2B salespeople purchased a list of prospects. However, that has changed, and today B2B salespeople are creating their own prospects. A common practice that is done using social media. You can choose from platforms such as LinkedIn, Facebook, and others that offer a slight business approach. Using these platforms you can easily get in touch with business owners, offering them a glimpse of what you have to offer.
Furthermore, you can take advantage of inbound marketing with the help of content. The content you can promote on your blogs and social media. Getting a buzz going around your content that can easily call for attention.
Initial Contact
The next step includes initial containing, the time has come to approach potential buyers, and make an introduction. This is a crucial first step, which is why we suggest you keep it simple and easy. Do not add irrelevant information, but offer the choice of added information. While creating a chance for you to learn more about your potential clients.
Assess & Qualify Prospects
Once you have made initial content, you will find out which potential customers are interested and which are stalling. However, we suggest you stick with your leads until they turn into hot leads – pushing your sales department out of the picture for now. This can be done by asking a number of qualifying questions, which are based on your business and the level of interaction you have.
Perfect Pitch
Today you can easily create a pitch using video content, and share them online. Or you can hold a private video chat, or even host a live webinar. However, we suggest once you have your pitch ready you focus on setting up a private video call with your potential buyer. Allowing them a chance to see how invested you are, and ready to cater to their unique demand. 
Keep in mind this is not just a one-time deal, you are building a relationship that you must foster in the years to come. One of the easiest ways to do that is by keeping your potential and current clients in check. Offering them special treatment can help ensure they become a loyal client. That being said, it does not mean you have to become their assistant. Just to create a strong business connection that benefits you both.
Respond to Queries
Why B2B businesses are pretty straightforward, but it is good practice to ask and answer questions. A simple practice that will help you establish a good connection with prospective and old clients. Moreover, it's important to remember that you are a guide. One that can lead your prospective clients in the right direction.
To ensure you have a healthy meeting keep your talk time-limited to 30% and listen to what your potential customers have to say. Do not jump the gun to answer questions, and take time to understand and clarify issues before you respond. Keeping a cool head with such a point allows you to respond in a polite and professional manner. While letting the customers know they are being heard and understood.
Following Up
Rather than asking yourself if you should follow-up on a lead, we suggest you follow up on the lead. Let the potential know that you are here to answer any questions they may have. To help solve an issue that they feel may arise. In simple words, you are here to close the gap that makes a potential customer a current client.
Close The Deal
The final step is to close the deal! Arguably the most difficult stage, one that can cause many B2B salesmen/women a great deal of distress. However, if you have completed all seven steps listed above correctly, you should not have a problem closing the deal.
When a prospective has come this far they are clearly interested in making a purchase. However, some aspects might be holding them back. We suggest you talk to your prospective and learn more about the issue. Discussing the matter can help you solve any arising issue, and closing the deal.
Following these simple eight steps can help establish a system from start to finish, a system that you can tweak and perfect. One that will allow you to reach great heights in the years to come.