How to Generate More B2B Leads from Social Media
An online search shows that more than 66% of marketers spend less than 6 hours per week on social media. These markets are focused on a specific agent, that helps them secure a 13% higher conversion rate. Lead generation on social media platforms must be a key part of your business to business marketing and sales strategy.
However, keep in mind that you need an effective plan, trying everything in the book or taking shots in the dark does not get you anywhere. The leads you create should be thought-provoking, interesting, and come with a high engagement rate. That being said, lead generation should not be your ideal focus.
Research proved that 50% of consumers confirmed that they follow companies and brands on social media to keep up with their products. Additionally, 90% of these businesses are using social media to boost brand awareness rather than pushing products. This brings us to the elephant in the room. With so many platforms and tactics which one is the best to ensure results?
Before We Begin: Here are Three Things You Need to Success in B2B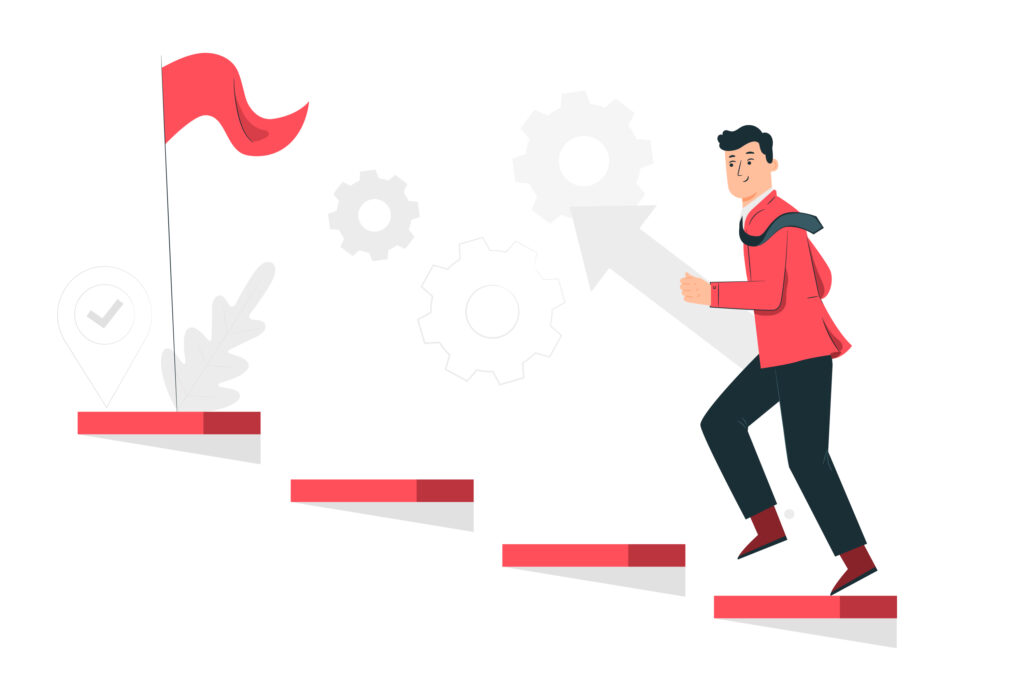 You cannot go into business based on your gut feeling, you have to come prepared for what's to come. Meaning if you are getting into a B2B business it's best to equip yourself with endless knowledge and aspects that touch your business. Paired with your gut feeling allows you to make sensible and well-educated decisions.
A similar approach should be followed when it comes to meeting your social media goals for 2021. Keep in mind that testing social media tactics is a small part of the plan, and you will need proper tools that help convert opportunities. When setting up a B2B business social media strategy we suggest you start with:
Creating Compelling Conversion
Yes, we suggest you start at the bottom of the funnel and make your way upwards. Creating a compelling offer is key, one that gives every prospect the last push they need to go through with the purchase. To ensure a sale that comes from a social media lead, we suggest you offer:
Free Trials – B2B clients are skeptical when taking on a new buyer. This is why it's best to offer them an incentive. A free trial allows them to test the product or your service. Present this as a limited-time offer, so the buyer is encouraged to make the purchase. 
Free Webinars – When created perfectly a webinar can help you generate leads from every angle. As they are a way to establish authority, and a connection with your audience. 
Product Demo – We live in a world where customers require instant gratification, and product demos can help you achieve your end goal. A product demo can be a live demonstration of a view that includes every aspect of the product from start to finish. 
A way to Connect – When in doubt, schedule a call with your prospective customers, getting to know the issues they face – while offering them sound solutions. Remember it's best to keep their interest in mind and shape the situation that offers the ideal results. 
Email Nurturing
The middle of your funnel should consist of email nurturing, a way you can connect with your potential customers without being too intrusive. When looking to take social media leads and convert them into hot leads you need to take extra precaution. Which includes but is not limited to:

Personalization: Sending personalized emails rather than standard bulk emails helps create a connection. As it is designed to let customers know that they matter.
Messaging – Knowing your audience is key here, as it can help you create a copy that is powerful enough to captivate them and push them towards a sale.
Creative Elements – Your email does not have to be all text, it can include images, gifs, small videos, and any other type of content that can help you sell. However, we suggest you keep it simple and minimal to ensure you can focus on selling aspects.
Gated Content
The top layer of your sales funnel should be used as a way to compile a B2B leads email list. Fast-tracking your B2B leads list, while offering potential customers the information they need. In exchange for their email, you can offer them a free eBook, case study, free tools, or a guide. Here is how you can justify gated content:
Social Proof – B2B consumers are more likely to trust new buyers who come with a long-standing review. Sharing corporations you have sold to is a great place to start.
Specification – You are not catering to the world, so you need to be specific when addressing pain points. Developing content that can help you create hype around your business.
Simple – When you are nurturing a lead that came from social media, we suggest you keep things simple, clean, and easy.
Generating More B2B Leads from Social Media
Facebook is a powerful social media platform that doubles as a robust business tool for many reasons. Research shows that 43% of business-to-business marketers have secured customers using Facebook and you can too!
Discover Facebook video
Facebook video is one of the best tools any B2B personal can ask for! Only when used effectively it can help you generate leads in no time. We suggest you add standard practices such as a call to action, mid-roll, and other touches. To ensure the best results you should add these aspects at the start or end of your videos.
Pin Lead Generation
With the help of pin lead generation you can pin any post to the top of your page, and each time someone visits the page they are surely going to take notice.
CTAs on Facebook Page
Adding a call to action aspect to your Facebook page is a great way to gain more lead generations. These buttons can be anything from "sign up" to "shop now", calling out the visits to take the next step.
LinkedIn by design is a platform where you can easily connect with business officials. A chance for you to secure leads that come with an 80% chance of sales. When looking to boost your B2B leads using social media, you cannot go wrong with LinkedIn.
Lead Gen Forms
LinkedIn lead generation forms are a great place to start, as you are speaking directly to businesses and their heads. Using the help of pre-filled forms one can easily secure a new lead.
Target Ads
LinkedIn is the place where you must run targeted ads. As they are sure to bring you closer to hot leads waiting to be approached. Research shows that 71% of B2B marketers use LinkedIn as part of their advertising strategy.
Social Strategy
What is better than a platform filled with business professionals, open to making conversation? However, that does not mean you casually type a message. You need a social strategy, and when executed the right way it can help you generate a 199% better return on investment.
Instagram might be a pleasant surprise for B2B marketers, as it is not a place where you would expect to bring leads from. That being said, Instagram has more than 200 million users, and these include professionals that make business decisions. In simple words, these are the buyers you are looking to connect with, ones that can help you grow.
Retarget Ads
Retarget ads can help you run ads that reach a relevant audience, making sure every single impression is made by someone who is interested in your business.
Influencer Marketing
Find an influencer that matches your brand or corporation, and use them to your advantage. Keep in mind that an influencer holds a great deal of sway over their followers, and all you need is a few to follow their lead.
Twitter is one of the most powerful social media platforms, one that offers a 67% chance to businesses to business users. Imagining getting leads based on tweets, might sound insane but it has happened, and effectively.
Grab Attention
To stand out on Twitter you need a way to grab the user's attention. Simple tweets are not going to cut it, you need to run a contest. Design the content to ensure exceptional exposure encouraging content participants to push your brand as much as possible. Getting a little buzz going can help you grab the attention your business needs.
Quality & Relevant Content
Twitter is a great place to say a few words and drop a link every now and then. Take advantage of the features to get yourself acquainted with Twitter users. Sharing content calls for engagement, which can easily lead to a sale.
Rather than taking on every piece of advice you get, we suggest you focus on the best aspects of each social media platform. This way you can easily make the most of your time and efforts, rather than focusing your resources on aspects that offer a low return on investment.